If you or a loved one is in pain and looking for Physiotherapy at home, VrriKsha provides home physiotherapist for your treatment in the comfort of your own home or office.   
             Physiotherapy Homecare means focused attention to the said patient all the time. Trained and highly qualified professionals will administer it at your convenience. The home service ensures that patients get trusted care facilities whenever they ask for physiotherapy treatment at home. Proper physiotherapy treatment at home will promise significant recovery of patients in the comfort of their homes. Some of the best types of physiotherapies are listed below: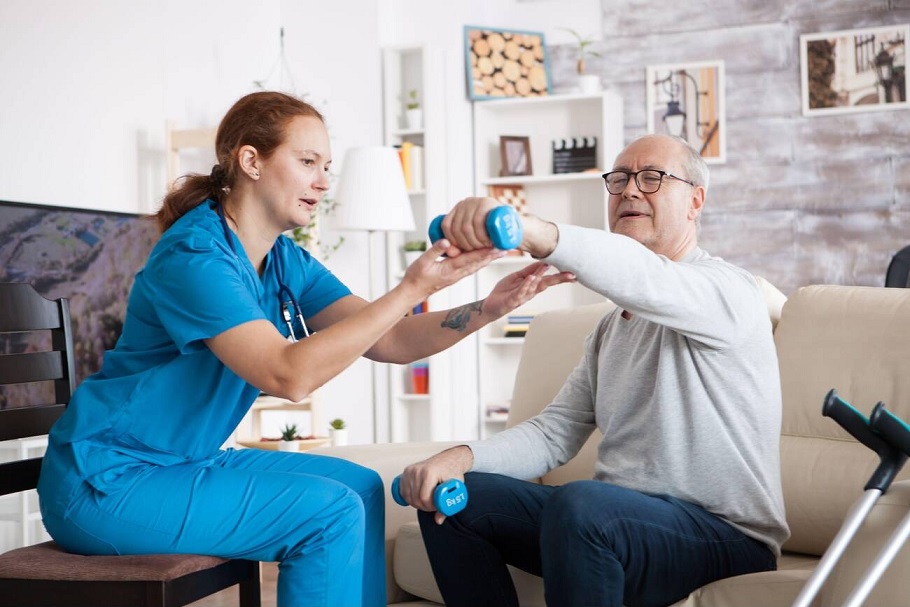 Get Back To Your Active Life Again
In case of joint replacements, physiotherapist can begin to assist you as soon as you have decided to have a surgery. We plan your rehab and start physiotherapy at home as soon as you reach back from the hospital. Our focus is to reduce pain and edema as much as possible, along with retraining the muscles to gain strength and speeding up your recovery. Our Physiotherapist will bring specialized equipment to facilitate your recovery. They will design exercise programs around what you have at home. Many of the problems and challenges of ageing are better managed in your own home environment, where we can see the problems on the spot. We can also involve care-givers and family members to give them a better understanding of how they can help.
Our Physiotherapists will follow the Standardized Process to help you recover faster and you can Get Back To Your Active Life again!
Please mail us at [email protected] or call at 8792-555-297 to find out if VrriKsha offers home visits in your area. Do not hesitate to mention in case there are female patients wishing to receive treatment from female Physiotherapists only.
Neurological physiotherapy at home
Focusing on neurological conditions like Stroke, Multiple sclerosis, Parkinson's disease, loss of balance, tremors, decreased sensation and more.
Orthopaedic physiotherapy at home
We are dealing with repairing deformities and treating ailments associated with the human musculoskeletal system, which includes correcting ligaments, muscles, tendons, bones, joints, muscle weakness, muscle spasms, hip or knee replacement.
Cardiopulmonary physiotherapy at home
We treat patients suffering from cardiopulmonary disorders like chronic obstructive pulmonary disease or cardiac arrest.
Pediatric physiotherapy at home
Here, the help comes to improve acute injuries, defects present at birth, delayed physical growth, or some generic defects like cerebral palsy.
Geriatric physiotherapy at home  
It deals with age-related medical conditions like osteoporosis, arthritis, and more.

When to See a Homecare Physiotherapist
Certain symptoms indicate that you must start physiotherapy at home in Bangalore for your treatment. Some of those points are:
 Prevention of injuries
 To work on various postures
 Alleviate the generalized pain
 Flexibility and stretching workouts
 Help after going through complicated surgery
 Management of disease
 Managing physical limitations
 To recover from knee or hip replacements